MENTAL HEALTH & SUICIDE PREVENTION Resources
Here you will find the best resources, website links, books, and podcasts for all things mental health & suicide prevention.
MENTAL HEALTH
National Alliance on Mental Illness
The National Alliance on Mental Illness, the nation's largest grassroots mental health organization dedicated to building better lives for the millions of Americans affected by mental illness. What started as a small group of families gathered around a kitchen table in 1979 has blossomed into the nation's leading voice on mental health. Today, we are an alliance of more than 600 local affiliates who work in your community to raise awareness and provide support and education that was not previously available to those in need.
Each Mind Matters is California's Mental Health Movement. We are millions of individuals and thousands of organizations working to advance mental health. The mental health movement certainly didn't start with us, but Each Mind Matters was created to unite all of us who share a vision of improved mental health and equality.
Every day, millions of people face stigma related to mental health because they or their loved ones are facing a challenge. Many of these people feel isolated and alone, going years before receiving any help. Our goal is to amplify the voices of all people who want to put an end to this stigma, creating a community where everyone feels comfortable reaching out for the support they deserve.
The National Institute of Mental Health
The National Institute of Mental Health (NIMH) is the lead federal agency for research on mental disorders. It is one of the 27 Institutes and Centers that make up the National Institutes of Health (NIH), the largest biomedical research agency in the world. NIH is part of the U.S. Department of Health and Human Services (HHS). Here you will find authoritative information about mental health, a range of related topics, and the latest mental health research.
Many resources can be found here for college-aged young adults.  They provide a section called The Self Evaluator, which gives you access to mental health screeners including the following:
Depression Screener / PHQ-9
Anxiety Screener / GAD-7
Eating Disorder Screener / SCOFF
Alcohol & Substance Misuse Screener / CAGE-AID
Plus, their Seize the Awkward campaign, in partnership with Ad Council and AFSP, is amazing!. Learn more about the campaign and how you can use an awkward silence to check in with a friend about how they're feeling.
Social Media Use & Mental Health: A Review
An ongoing open-source  literature review posted and curated by Jonathan Haidt (NYU-Stern) and Jean Twenge (San Diego State U).   This Google doc is a working document that contains the citations and abstracts of the published articles we have found that shed light on a question that is currently being debated in the USA and UK: Does social media use contribute to the recent rise of adolescent mood disorders (depression and anxiety) and related behaviors (especially self-harm and suicide)?  [See companion review for studies documenting this recent rise.]
SUICIDE PREVENTION
National Suicide Prevention Lifeline
a national network of local crisis centers that provides free and confidential emotional support to people in suicidal crisis or emotional distress 24 hours a day, 7 days a week. We're committed to improving crisis services and advancing suicide prevention by empowering individuals, advancing professional best practices, and building awareness.
The National Suicide Prevention Lifeline is now: 988 Suicide and Crisis Lifeline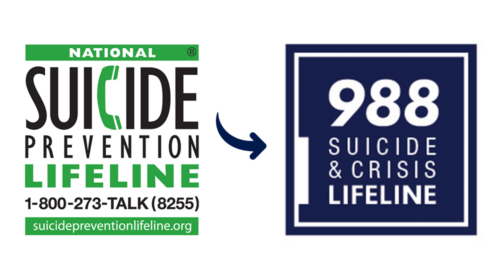 988 has been designated as the new three-digit dialing code that will route callers to the National Suicide Prevention Lifeline. While some areas may be currently able to connect to the Lifeline by dialing 988, this dialing code will be available to everyone across the United States starting on July 16, 2022.
Text HOME to 741741 from anywhere in the United States, anytime. Crisis Text Line is here for any crisis. A live, trained Crisis Counselor receives the text and responds, all from our secure online platform. The volunteer Crisis Counselor will help you move from a hot moment to a cool moment.
Founded in 1998 by the creators of the Academy Award®-winning short film TREVOR, The Trevor Project is the leading national organization providing crisis intervention and suicide prevention services to lesbian, gay, bisexual, transgender, queer & questioning (LGBTQ) young people under 25.
TEEN LINE is a non-profit, community based organization that provides emotional support to youth. It is our mission to provide peer based education and support before problems become a crisis, using a national hotline, community outreach and online support.
American Foundation for Suicide Prevention
A voluntary health organization that gives those affected by suicide a nationwide community empowered by research, education and advocacy to take action against this leading cause of death. AFSP is dedicated to saving lives and bringing hope to those affected by suicide.  AFSP creates a culture that's smart about mental health by engaging in the following core strategies: Funding research, Educating the public, Advocating for public policies in mental health and suicide prevention & Supporting survivors of suicide loss and those affected by suicide.
Know the Signs is a statewide suicide prevention social marketing campaign built on three key messages: Know the signs. Find the words. Reach out. This campaign is intended to educate Californians how to recognize the warning signs of suicide, how to find the words to have a direct conversation with someone in crisis and where to find professional help and resources.
The Jed Foundation is a nonprofit that protects emotional health and prevents suicide for our nation's teens and young adults. They are the "go to" website for all we need to help equip America's teens and young adults with the skills and support they need to grow into healthy, thriving adults.
Just like the lotus, we too have the ability to rise from the mud,
bloom out of the darkness, and radiate into the world.
~Unknown~